In the ever-expanding digital landscape, the backbone of modern businesses lies in their networks, and ensuring seamless connectivity is where professionals like James Richards, a seasoned Senior Network Engineer at M.A. Polce, shine. James' expertise and dedication to his craft have been instrumental in creating efficient and reliable networking solutions for a wide array of clients.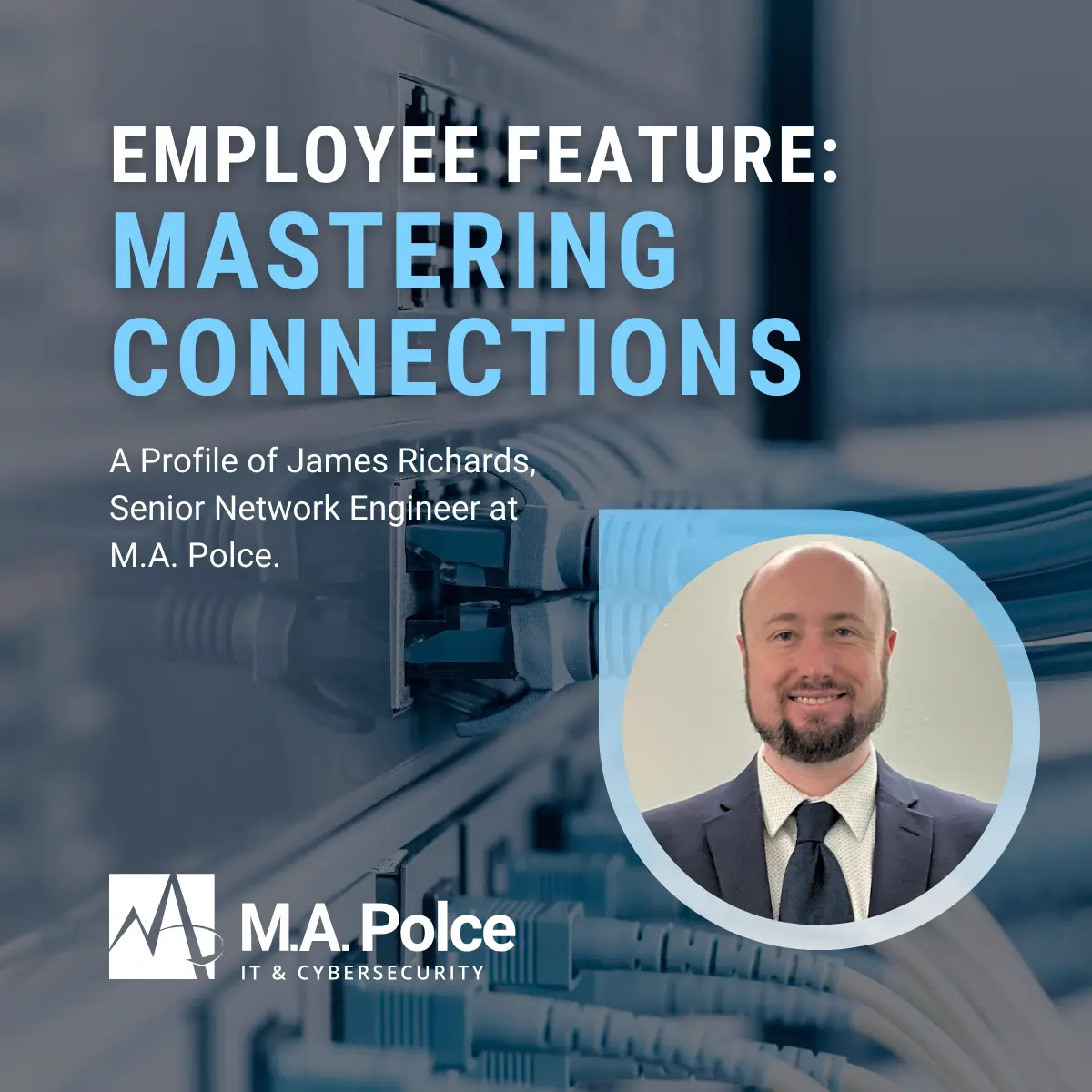 Connecting the Dots: A Journey into Network Engineering
James is a true tech enthusiast whose career path was serendipitous. At an early age, he recognized his affinity for technology and computers. Cybersecurity was the hot topic when it came time for college, and Utica College had just developed its Northeast Cyber Forensics Center. But this did not turn into the open-and-shut case it appears to be.
He may have left Utica College armed with a Bachelor of Science in Cybersecurity and a Masters in Forensics. However, his education revealed that his heart resided more in the IT industry's hardware peripherals and networking aspects.
So, through Utica College's work-study program, James channeled his interest in hardware by taking on a help desk support role. It was during this experience James got a true taste for networking.
Then, James' calling began to unfurl in 2016 when he attended a job fair and met Chris Roy, M.A. Polce's CIC manager at the time. This encounter led to an interview and James joining M.A. Polce's team. Since then, he has become an invaluable asset to the company, embracing new challenges and opportunities for growth.
IT Professional Development
Early in his role, James worked as an onsite engineer for the City of Utica in City Hall. Here, he was responsible for day-to-day technology support.
After some time, James migrated to the centralized support team. This transition brought James' work out of City Hall and back into M.A. Polce's headquarters, along with his focus from individual support for one client to support for all clients in M.A. Polce's data center.
Eventually, he rose from his support role towards the networking side of the house. He began shadowing M.A. Polce's lead network engineers to learn the ropes. Through this experience, James' paved his path to the centralized services team, where he handled networking purely as it pertained to the data center.
Finally, James pivoted into a position on the professional services team, where he remains today. He continues with networking but with a project-based perspective. James is an essential part of the project team, where he excels in implementing cutting-edge technologies for clients and ensuring that their systems run smoothly and efficiently.
The Art of Collaboration: Building Bridges for Clients
James' collaborative nature sets him apart. Working closely with colleagues like Peter Monahan, he collaborates on projects, pooling their expertise to design and implement optimal solutions. Whether tackling network issues, optimizing performance, or deploying new equipment, James and his team are always on hand to support clients through their challenges.
One key factor that makes James effective in his role is his ability to stay focused and collaborate seamlessly with his peers. The open and collaborative work environment at M.A. Polce allows him to bounce ideas off colleagues, facilitating effective problem-solving and swift project execution.
Reflecting on his accomplishments, James is most proud of successfully bringing in bigger clients and managing large-scale projects for the company. He emphasizes the importance of teamwork and effective collaboration with other departments to achieve common goals.
Importance of Networks for Businesses
Network engineers like James play a crucial role in the success of businesses. A robust and well-managed network infrastructure is essential for seamless communication, data exchange, and access to critical resources. An efficient network means increased productivity, reduced downtime, and improved security for clients.
James' expertise enables him to guide clients in adopting the latest networking technologies and solutions that align with their specific requirements. From integrating advanced security measures like firewalls to ensuring reliable data transfer, James consistently strives to meet his clients' diverse needs.
In simple terms, James says that his ultimate responsibility is "to ensure clients can access everything they need on their computer to continue the operation of their business."
While he makes it sound straightforward, maintaining the accessibility of digital business necessities isn't as cut and dry as an average end-user might think.
The Evolution of Network Technologies
Network technology has irrevocably changed how humans communicate with one another and, consequently, the way businesses conduct business. As humans press forward with technological innovation, network-driven changes shape every facet of our lives in real-time.
However, even those who depend on network technology rarely grasp the significance of these advancements. After all, the general population is primarily familiar with the benefits of network technology. This includes and is certainly not limited to, conveniences like file sharing, real-time collaboration, remote work, and improved storage capacity. Seldom are end users aware of what makes these advantages possible.
Meanwhile, the evolution of network technology is palpable for engineers like James, whose job depends on the ability to maintain pace with the future of networking at a technical level.
He watched network equipment like routers, switches, and firewalls become increasingly capable. Over time, single devices could perform functions previously requiring multiple devices.
With fewer devices required to perform the same tasks, companies can save money on equipment costs and reduce the complexity of their network infrastructure. Additionally, the increased capabilities of these devices mean that companies can achieve greater efficiency and productivity, ultimately leading to improved business outcomes. All in all, the evolution of network technologies has been a game-changer for businesses of all sizes and industries. But none of this would be possible without network technicians like James, who engineers solutions behind the scenes.
Staying Ahead in the Evolving Landscape
James' passion for networking is evident in his continuous quest for knowledge. Network technology continues to evolve to meet changing needs, and James understands the importance of staying current with the latest technological advancements. He immerses himself in continuous learning by leveraging online resources like Cisco Learning Labs. This proactive approach empowers him to tackle complex challenges and quickly deliver innovative solutions to clients.
Additionally, his commitment to learning extends to helping his colleagues. He readily shares his expertise to ensure the entire team remains well-versed in emerging technologies.
Creating the Future: James' Aspirations as a Network Engineer
When asked about his long-term goals, James envisions a future where he can contribute even more to the company's success.
Looking ahead, James remains committed to expanding his knowledge and exploring new technological horizons. As M.A. Polce stays at the forefront of business technology services, James will continue to provide clients with top-tier support and advanced networking solutions.
James' journey is a testament to the incredible opportunities that can unfold when passion meets dedication. As he navigates the dynamic world of networking, his commitment to learning, collaborating, and growing makes him a true asset to M.A. Polce and an inspiration to all aspiring tech professionals.
With his heart set on continuous improvement and dedication to his craft, there's no doubt that James Richards will continue to shape the future of networking at M.A. Polce. Clients can rest assured that their business interests are in the capable hands of a master in the art of connectivity.