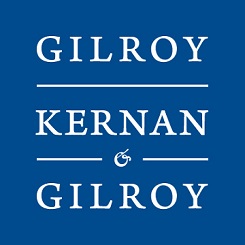 Author: Bea Ewing
Date: November 23, 2020
Gilroy, Kernan & Gilroy Insurance
GKG Upgrades Conferencing Abilities with Collaboration
Challenge
A local insurance agency, Gilroy, Kernan & Gilroy (GKG), was looking to modernize the way that they host meetings both internally and with their clients. Their previous method of conducting meetings consisted of integrating many pieces of bulky equipment that were scattered around the conference room. A phone, multiple types of video inputs, a projector, a projector screen, speakers, a bulky whiteboard, web camera, pointers, and video recording equipment all had to be configured prior to each meeting, which took a considerable amount of time and introduced many points of failure.
GKG wanted a sleek, aesthetically pleasing, but yet simple solution that would bring their conferencing capabilities into the next generation. The solution needed to be scalable and simple for all members to use and needed to provide audio, video, conferencing, recording, white boarding, and wireless screen sharing.
Solution
M.A. Polce Consulting worked with the GKG to determine what their expectations of a next generation video conferencing solution consisted of. Based on these expectations, M.A. Polce Consulting recommended the Cisco Spark solution. Cisco Spark is an app-centric, cloud based collaboration solution that can be a fully managed voice solution as well as a messaging, and meeting solution.  M.A. Polce Consulting determined that it would be best to couple Cisco Spark with a Spark Room Kit Plus which is one of the many endpoints that integrates with the Cisco Spark solution.
The Cisco Spark solution coupled with the Room Kit Plus would make for a great combination that makes hosting meetings simple, secure, and effective. The Spark solution supports digital white boarding, wireless screen sharing, video and audio conferencing. The Room Kit Plus is equipped with four 5K ultra HD cameras configured with speaker track technology which will actively track the active speakers. The room Kit Plus also comes with a touch-10 making for quick and easy switching between displays, if required.  In addition, the integration with calendars makes reserving, scheduling, starting, and joining meetings nearly automatic.
Business Outcome
M.A. Polce Consulting deployed Cisco Spark for the agency and has now consolidated many disparate pieces of equipment down to one, aesthetically pleasing, unified solution that handles their audio, video, recording, white boarding, screen sharing, and meetings. The agency is able to schedule and host meetings with ease and the end users are able to join meetings from any device seamlessly. Streamlining the meeting process for this agency has not only improved the end user experience but it has also resulted in more efficient meetings.