Governance, Risk, and Compliance Services
Cyber Governance, Risk, and Compliance Services for Businesses
M.A. Polce offers a variety of risk management and cybersecurity compliance services to help organizations in New York State identify threats, uncover vulnerabilities, test their cyber defenses, and guide them toward regulatory compliance. 
Managed Risk & Compliance Services
Integrate Governance, Risk, and Compliance Management
With visibility into your cyber risk profile through an integrated platform, this program gives you the power to assess and strengthen your security posture continuously. And to achieve, maintain, and demonstrate compliance with data security requirements.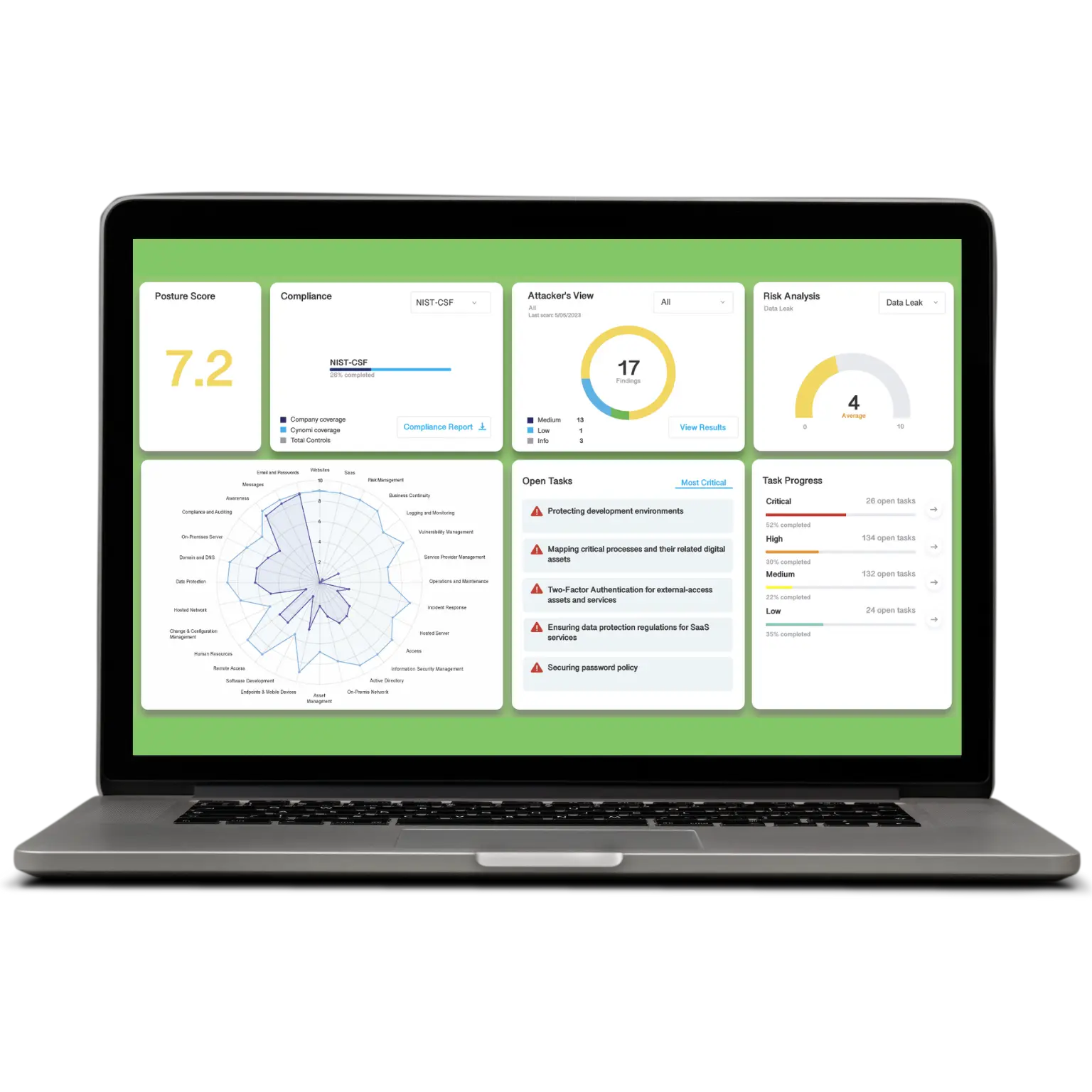 Cyber Risk and Security Assessments
Understand and Address Your Cyber Risk
M.A. Polce offers cyber assessment services to help organizations identify their cyber risk, test their defenses, and improve their security measures proactively.
Identify vulnerabilities that could allow threats to infiltrate. Our security analysts provide a comprehensive report for you to take corrective action and firm up your defenses. Unquestionably, a Security Assessment is one of the best first steps an organization can take.
A Security Assessment analyzes critical systems based on industry benchmarks and best practices, along with a comprehensive report outlining associated vulnerabilities and the risks they pose to your organization. In addition, recommended action items are identified and clearly explained. 
Today's rapidly evolving threat landscape demands smarter and more comprehensive security measures. Security Assessments identify vulnerabilities in your IT systems and provide recommendations for improvements so you can lower the risk of data breaches. 
Cyber threats have become so damaging and attacks so widespread that many organizations find themselves lacking the appropriate resources to combat these threats. It's essential to evaluate the existing security within your environment to identify risks and the effect they could have on day-to-day business operations. Our experts perform assessments that identify vulnerabilities and the steps you should take to safeguard your perimeter network, critical internal assets, remote users, and customers.
Identify, prioritize, and measure your organization's cybersecurity risk to proactively mitigate threats. M.A. Polce's Risk Assessment provides insight to ensure your organization is taking the right steps to protect assets, satisfy compliance, and effectively manage risk.
Risk Assessments are the building block upon which all compliance activities are implemented and measured. Performing a risk assessment ensures that security is kept at the forefront of your organization. The risk assessment starts with a questionnaire administered by one of our cybersecurity experts, and then we evaluate everything to provide risk ratings and recommendations for improvement. 
Organizations may perform risk assessments because they are required to, but their true value lies in knowing how the organization is vulnerable and the path to achieving compliance and a more secure environment. The risk assessment results provide the necessary insights to build a comprehensive security roadmap that drives decisions and funding. 
Determine if Hackers can Get Past Your Defenses
Penetration testing is an essential practice for businesses that want to ensure their systems and networks are secure.
Pen tests are a form of ethical hacking used to test the effectiveness of an organization's cyber defenses. The test involves an authorized and simulated cyber attack against your IT infrastructure designed to check for exploitable vulnerabilities. 
Penetration tests are needed to provide evidence that an organization's network is secure. They reveal vulnerabilities in an IT infrastructure and examine the effectiveness of an organization's security posture. The findings allow an organization to take corrective action before a cybercriminal can exploit any weaknesses. 
Incident Response Tabletop Exercises
Validate the Effectiveness of Your Incident Response Plans
Test your preparedness in the event of a cyberattack, breach, or other event where technology systems are disrupted. Administrators, technical staff, and others will benefit from participating to strategize how the organization will respond if faced with real security events.
A tabletop exercise, also known as a cyber incident response test, is an activity used to evaluate the effectiveness of your organization's incident response plans. A tabletop exercise aims to examine the client's internal and external response and coordination efforts following a simulated attack. The exercise intends to improve the client's understanding of key cybersecurity concepts, identify strengths and weaknesses in response planning, promote changes in attitude and perceptions, and enhance participating stakeholders' overall response posture and collective decision-making process.
The tabletop exercise helps organizations achieve a deeper understanding of breaches and other threats in a cost-effective way with minimal to no disruption to business operations. It familiarizes top management and other participants with their roles and responsibilities in case of a technology incident. This fosters an understanding of the dependencies and interdependencies among information technology, business continuity, crisis management, and physical security functions.
Policy & Plan Development
Get Comprehensive, Customized IT & Cybersecurity Policies
Governance work is our thing. After understanding your business requirements, we'll update or create policies by leveraging our comprehensive policy collection that we've crafted and honed over many years.
Virtual Chief Information Security Officer (vCISO) Services
Harness Cybersecurity Expertise Without Hiring
Our Virtual Chief Information Security Officer (vCISO) is a remotely managed service that helps avoid costly overhead and allows you to customize a program to meet your cybersecurity needs. Gain instant cybersecurity leadership for your organization today.
Cyber Risk Management & Compliance FAQs
"If you're in the market for a professional, knowledgeable, and dependable Managed Service Provider, then look no further than M.A. Polce." – Scott L.
"We have been working with M.A. Polce for the past two years on a tiered approach evaluating our systems, they are very attentive, have a great attention to detail, and have a very professional team. I would encourage any organization to partner with M.A. Polce." – Jason C.
"We appreciate the partnership that M.A. Polce has brought to our managed IT services. They provide excellent support but also serve as a resource for us to discuss our IT environment and develop plans for improvement, change, and growth." – Rachel S.
Check Out These Related Cyber Risk Management and Compliance Resources
What Governance, Risk, and Compliance Services are You Interested In?
Reach out for an exploratory conversation about your governance, risk, and cybersecurity compliance needs.